Data Center Operation Measures Service Green Air IDC
(Patent No. 5306969, Patent No. 5306970, Patent No. 5324363, Patent No. 5421570, Patent No. 5729993, etc.)
IDC Business Operator Needs
1.

We want to solve thermal problems such as high loading of blade servers and the cloud.
(The cables interfere and the cold air is obstructed.)

2.

We have to implement energy conservation to comply with laws such as The Revised Rationalization in Energy Use Law.
(We don't know what to do because we are not specialists in energy conservation measures)

3.

We want to secure reliability
(We want to achieve both energy conservation and reliability at the same time as solving our thermal load problems)

4.

We want one-stop service
(We want you to provide everything from diagnosis to problem-solving)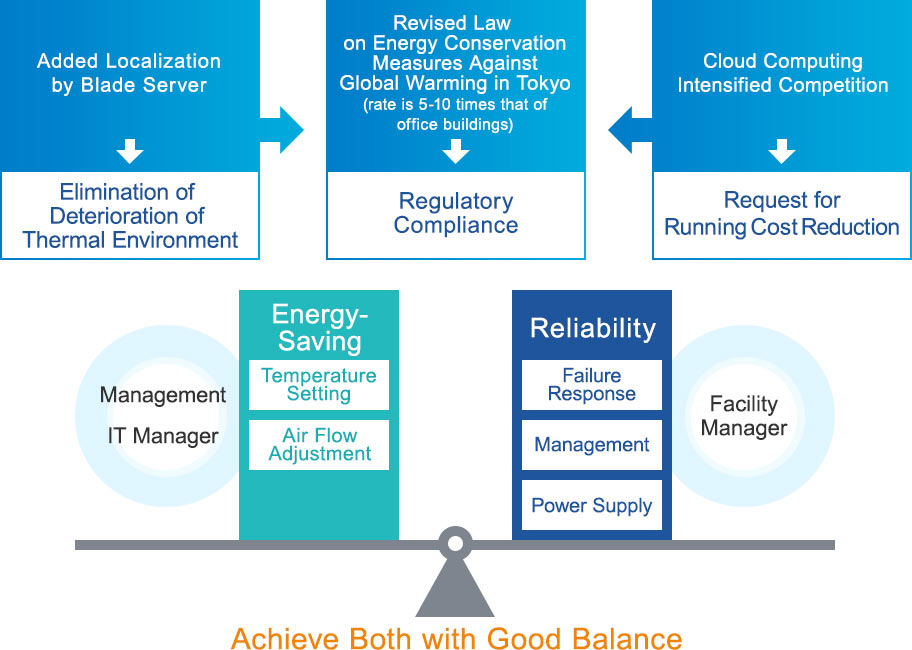 Operation measures service over the entire datacenter lifecycle
Green Air IDC is an operation service for overall optimization through the IDC lifecycle. In an IDC, the air conditioning load changes at short intervals due to the addition or replacement of IT equipment. We diagnose the thermal environment and energy of the IDC's operating conditions, and provide everything from energy-saving tuning to renewal general planning and design, construction, and post-delivery after-sales service on a one-stop basis. We have more than 100 validation results in Japan and overseas.
Provides services according to the IDC administrator's request such as energy-saving from the abundant menu of diagnosis and tuning features
Diagnosis is possible not only from the construction stage, but also from the operation stage using the comprehensive evaluation technology for measurement and CFD* analysis
For measurement, a thermo camera is utilized to the utmost, enabling measurements with narrowed-down scores and rapid air flow adjustment, etc., reducing inconvenience during the measurement period
Understand the advance effects of tuning by simulation
*Computational Fluid Dynamics
Medium- to long-term operation cycle

(1) Diagnosis (measurement survey analysis proposal) (abundant diagnosis results, track record of over 100 cases including Japan and overseas)
As part of our service, we also conduct simulation by CFD analysis, but we also visualize the temperature distribution by converting it to 3D with a thermo camera and a special filter based on actual measurements of the server room environment to make the situation understandable for IT engineers. By doing this, we can share problem areas with customers and use the results for planning and measures for subsequent solutions.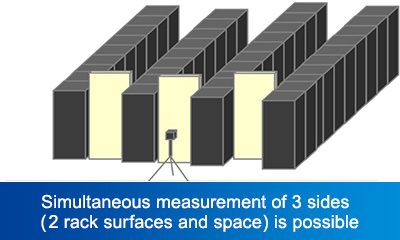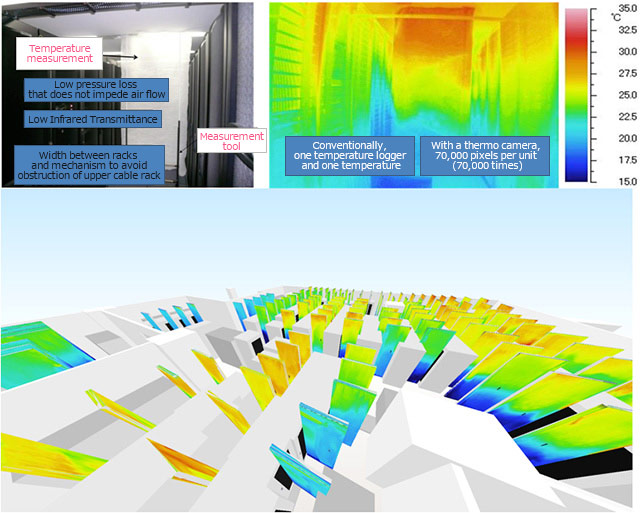 We perform containment (capping), etc. of air flow adjustment, air volume adjustment, cold aisles, and hot aisles with inexpensive materials. We also have a track record of achieving energy-savings of 25% reduction by improving operations, etc. without costly measures.
By supplying the supply air to the servers uniformly, we increase the setting of supplied cold air and improve operational efficiency.
After tuning, etc. is completed, as a check that must not be forgotten, we recommend that customers check for any potential problems such as when the air conditioner breaks down or when there is a power outage.
Even if you change the temperature settings to achieve energy-saving, you will lose everything if a problem occurs in the case of an emergency. For example, we offer support for peace-of-mind where we measure the thermal environment of the server room by measuring the environment while the air conditioning is stopped to understand the situation during an emergency, for example, during a planned power outage or testing of the generator.